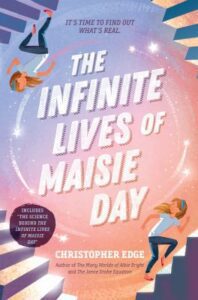 Combine Science Fiction with Realistic Fiction and you get The Infinite Lives of Maisie Day by Christopher Edge. The realistic portion features home-schooled science and math genius Maisie and the sometimes stormy relationship with her over-protective parents and angry older sister. The story begins on her 10thbirthday and Maisie can't wait to hopefully receive materials to make her own nuclear reactor and to celebrate with her family. However, the sci-fi portion surfaces where she seems to be in an alternate universe complete with infinite stairways, missing family, broken things reassembling, and a black abyss. Chapters alternate between these "lives of Maisie" leaving the reader wondering what's really going on and what will happen next!
Don't get too confident in your predictions,  as this compact story takes you on some unexpected twists and turns keeping those pages turning until the very end…. and even then you can't help but wonder!
I recommend this book for 5th grade and up, particularly for the science fans.
Book reviewed by Carol C., Elementary School Liaison