LUCKY DAY

The Lucky Day Collection is Available Exclusively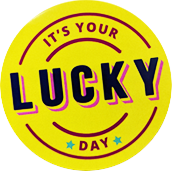 To Mount Prospect Public Library Cardholders
Are You Feeling Lucky?
Mount Prospect Public Library cardholders have a chance to skip long hold lists and find popular books, movies, and video games in our new Lucky Day collection at the Main Library. These items are offered on a first-come, first-served basis. If you find an item on a designated shelf in the lobby, it's yours to checkout, even if the item has multiple holds. It's your Lucky Day! 
We purchase additional copies of titles for this collection, and new items are added regularly.
The Fine Print
Our Lucky Day items:
Are Limited to MPPL cardholders 
Are Non-renewable and non-holdable 
Have a standard loan period based on item type 
Have standard checkout limits based on item type, with a limit of 5 DVDs/Blu-rays from the Lucky Day collection. 
Are Fine Free 
Tired of waiting for your hold on a recently released DVD? Desperate for the latest bestseller? Looking for a new video game? It's your Lucky Day! We've added a collection of popular materials to give MPPL cardholders a chance to skip long hold lines by finding an item on the Lucky Day shelves at the Main Library. Stop by, and if an item is on the shelf, check it out, even if it has a long hold list.