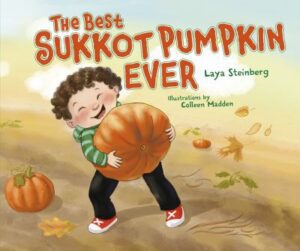 A simple picture book about the Jewish harvest holiday of Sukkot. Many families celebrate by building and decorating a hut called a sukkah. 
Micah and his family visit a pumpkin patch to find the best pumpkin for their sukkah, during their search he learns that the ripe pumpkin would also help feed people in a soup kitchen. 
Will Micah keep the best Sukkot pumpkin ever or will he practice Tikkun Olam (repairing the world) demonstrating the importance of sharing and giving to those in need? 
Learn the answer by reading The Best Sukkot Pumpkin Ever by Layla Steinberg. 
Book reviewed by Marsha D., Youth Services Assistant