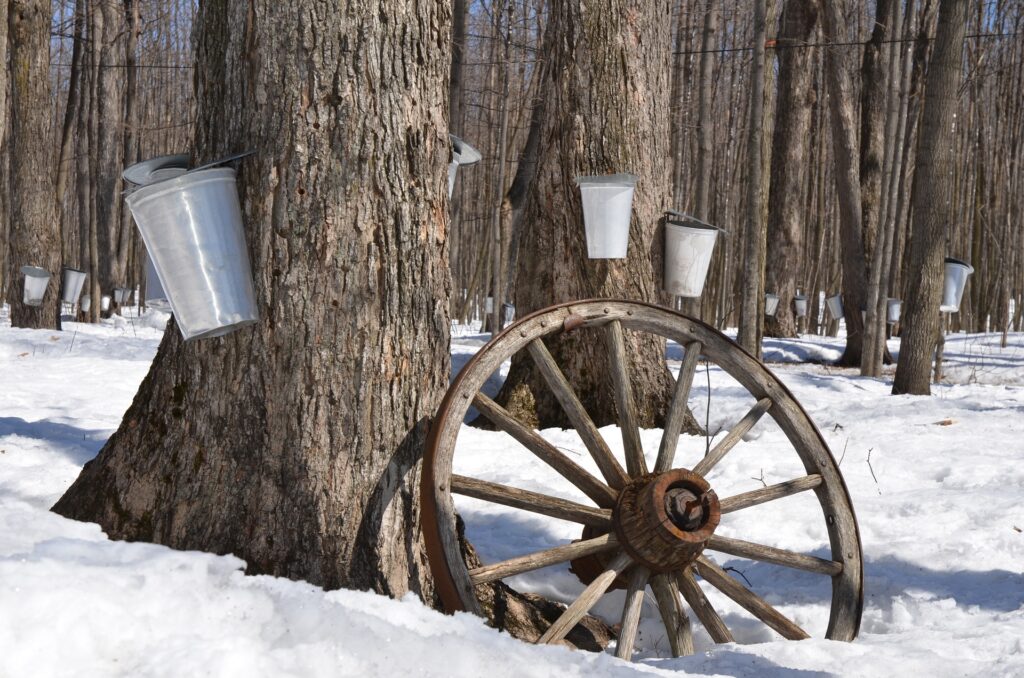 Beginning in the middle of February and stretching into mid March, the Sugar Maple trees begin to prepare for spring by sending sap up to their branches to fuel the spring growth.  This is one of the first signs of spring in the forest and marks maple syrup season.  On days where the nights are freezing and the days are in the 40s the sap will flow up the tree. Once it is still above freezing overnight, the sap will turn cloudy and can no longer be used for syrup.  At this point the tree will begin spring growth.  
Maple syrup is made by collecting the sap from a maple tree, usually a sugar maple, and boiling it to allow the water to evaporate and concentrate the sugar.  Once enough water has evaporated, the sap becomes syrup.   
Sugar Maple trees are tapped because their sap has the highest concentration of sugar, but even so it takes 40 to 50 gallons of sap to make one gallon of syrup.  Straight from the tree, the sap looks like water and has a barely noticeable sweet taste.   
To see photos and videos of the maple syruping process, visit: https://vermontevaporator.com/learn/sugaring-for-beginners/ 
To learn more making (and eating) maple syrup, check out these books!