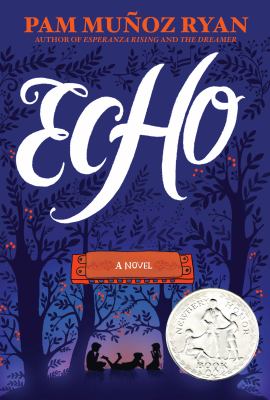 Think of a piece of music.  In this song, there are three harmonies that come together to make the melody.  Each of these three children's stories is one of those harmonies.
Friedrich lives in Nazi Germany.  All he wants is to be left alone to play music, but first he needs to rescue his father who has been arrested.  He must smuggle some money into the work camp to buy his father's freedom.  On his way there, he is captured by Nazis.  Will he make it?
Mike and Frankie are brothers who live in an orphanage in Pennsylvannia during the Great Depression.  They think their luck has improved when they are adopted by a former concert pianist and taken to live in her mansion.  However, it turns out that Mrs. Sturbridge is only adopting them in order to get her inheritance.  When they try to run away, Mike falls as he is climbing out the bedroom window.   Will he make it?
Ivy's parents manage a farm in South California.  The farm is owned by the Yamamotos, a Japanese family imprisoned in an internment camp.  Their neighbor Mr. Ward thinks the Yamamotos were spies.  He spray paints hateful words on the house and tears up the garden.  He even insists on being shown the contents of the Yamamoto's house.  Instead of spy equipment, it turns out that the family is hiding musical instruments.  None of this matters, however, when Ivy's family receives a telegram about her brother, a soldier in World War II.  Will her brother be okay?
All the children face challenges, but pulled by an invisible thread, their stories come together in an unexpected way.
Book reviewed by Mary S., Youth Services Department Head