In turbulent times, we realize it can be helpful to use literature as a way to discuss and explain difficult situations with your children. MPPL Youth Services staff have curated a collection of books and resources to assist you as you discuss events with the youngest members of your family.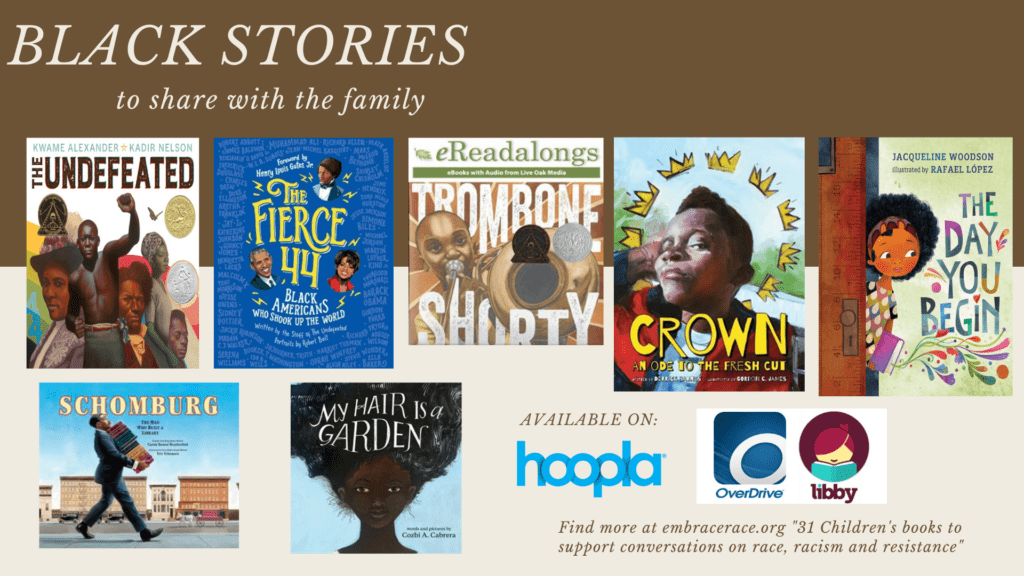 Books @ MPPL
Anti-racist Books for Families
Anti-racist Books for Pre-K-K
Anti-racist Books for grades 2-4
Anti-racist Books for Tweens (4th-6th grade)

You can place holds on these items for parking lot pick up, or many of them are also available from Hoopla, Overdrive/Libby, and RBdigital.
Hoopla collection of Audiobooks, "Talking to Kids About Race"
Resources
These resources have been vetted by library staff, however, since they are outside sites, we are not responsible for the content.
Children's Books We Use to Teach Young Kids to be Anti-racist
How White Parents Can Use Media to Raise Anti-Racist Kids
RESOURCES FOR TALKING ABOUT RACE, RACISM AND RACIALIZED VIOLENCE WITH KIDS
Becoming Upended: Teaching and Learning about Race and Racism with Young Children and Their Families
Racial Equity Tools: Children, Families, and Youth Development
Your Kids Aren't Too Young to Talk About Race: Resource Roundup
Anti-racism Resources for All Ages, curated by Dr. Nicole Cooke