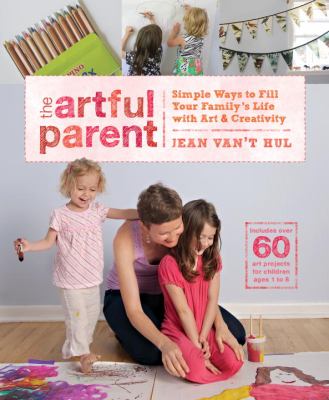 The Artful Parent is a great resource for art activities appropriate for a wide range of ages, toddler through school age children. Check out the website or the book.
Warm days are the best time to try messy hands-on activities outdoors. Three favorite messy activities from the Artful Parent are making oobleck, melting ice, and playing with cloud dough.  
Oobleck
1 ½ -2 cups corn starch 

1 cup water 

Food coloring (optional) 
Directions: Mix the food coloring with the water and then stir in the cornstarch. As it dries out, more water can be added. Cups, bowls, spoons, and plastic washable toys are all fun to play with oobleck. For more ideas of what to do with oobleck, go to "Fun Things to do with Goop" from The Artful Parent. 
Melting Ice Experiment 
Ice 

Salt 

Food coloring or liquid watercolors 
Directions: Freeze water in different shaped containers, such as a muffin tin, cups, or bowls. Once frozen, run the containers under warm water to release the ice. Sprinkle a small amount of salt on the ice and observe what happens. As the ice melts, use liquid watercolors or food coloring and an eyedropper to color the ice.   
Cloud Dough
Directions: Pour the flour into a large container and slowly add the vegetable oil, mixing it until the flour is fluffy and holds together when pressed like wet sand. Add spoons, cups, and washable plastic animals.