Happy Hanukkah!
To learn more about this holiday, we went to PebbleGo, accessible through our web resources.
Hanukkah is a Jewish holiday taking place for eight nights. This year, it started on Thursday, December 10 and ends Friday, December 18. It is also known as the Festival of Lights. Jewish people celebrate by lighting a candle on a menorah each night, eating special foods, and sometimes exchanging gifts. Many also like to play with a spinning top called a dreidel.
To celebrate, you can make your own dreidel and play a fun game to win treats of your choosing.
1. Draw equal triangles on your cardboard. You can do this by drawing two diagonal lines across the brown side of cardboard.
2. Draw the Hebrew letters below on each triangle.
3. Have a grownup poke a pencil in the middle of the cardboard square. Now you can spin it on the pencil tip!
Everyone gets the same amount of a small object- raisins, or stickers, or Hanukkah gelt (gold-foiled covered chocolate). You'll be playing for these pieces.
This idea comes from https://www.whatdowedoallday.com/easy-hanukkah-dreidel-craft-kids/.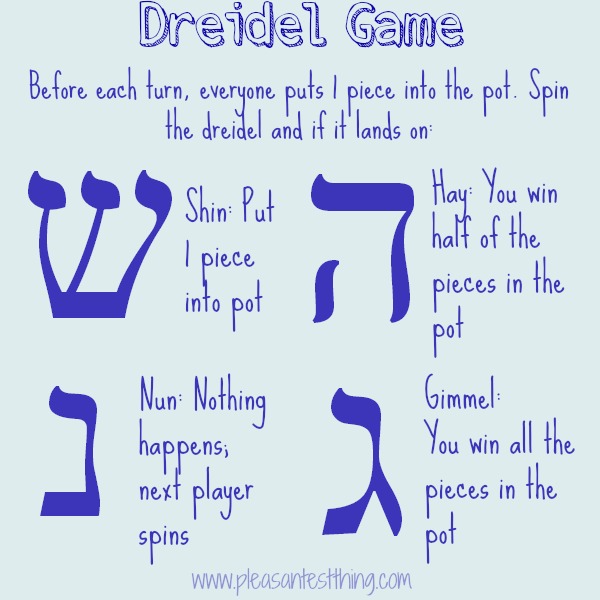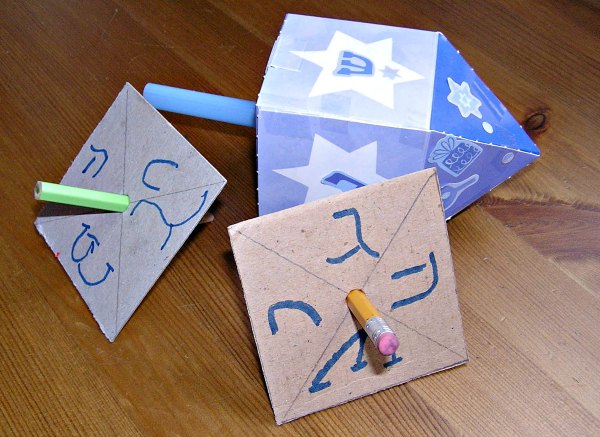 Image by Erica of What We Do All Day
You might also want to check out this online coloring book from Google Arts and Culture to decorate your own Hanukkah art.