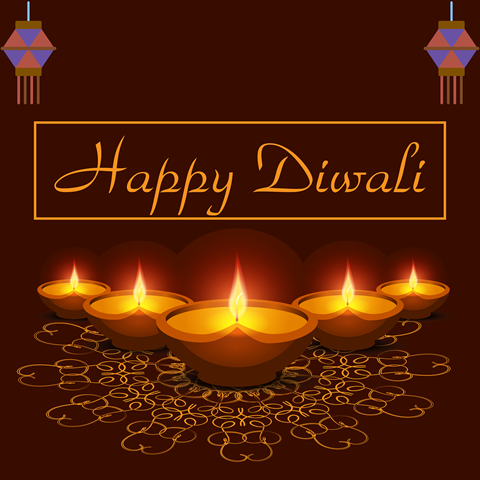 Diwali is a holiday that is celebrated in Southeast Asia and all around the world at the end of the Hindu calendar. This year, that falls on November 1st-6th. At the Mount Prospect Public Library, we love learning, so we invited two members of the community, Trisha and Gina, to tell us more about Diwali, also known as the Festival of Lights.
During Diwali, families celebrate their prosperity, the family, and the triumph of good over evil. To get ready for Diwali, many people clean their house to get rid of negative energy. A tradition called puja is how people give thanks for what they have and look forward to continuing prosperity, or well-being. There are celebrations with family and friends that include a lot of food, and sometimes fireworks. The last day of Diwali is dedicated to the relationship between brothers and sisters, and appreciating everyone you consider family.
People also decorate their homes with artwork called rangoli. Rangoli is used to welcome people to your home and is usually in front of the house using something like colored sand, colored rice, flower petals, spices or lentils. To learn more about creating rangoli, check out this craft video:
We hope you'll have a chance to try making your own rangoli, maybe using materials that you already have at home.
In honor of Diwali, visit us at the library to pick up some rainbow scratch paper (while supplies last) and try making mess free rangoli!