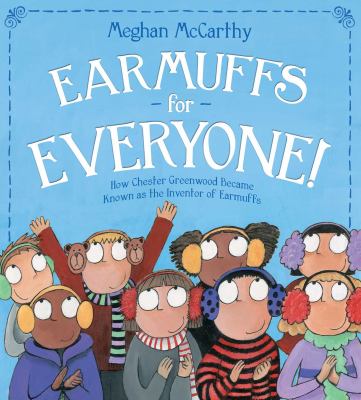 Do you have creative ideas for a new invention? Maybe you have some thoughts on how to improve an existing invention?  Well that's exactly what Chester Greenwood did in the book by Meghan McCarthy entitled Earmuffs for Everyone: How Chester Greenwood Became Known as the Inventor of Earmuffs.
But the question surrounding this book is, did he really invent earmuffs? After researching the topic, the author learns that sometimes finding the true inventor of something is trickier than it seems.  There were various forms of ear coverings before Chester Greenwood came along, but when Chester was only 19 years old, he improved on other people's ideas by adding a wire that goes across the top.  He received a patent for that addition and now on December 21st in Maine, they celebrate Chester Greenwood Day…and of course everyone wears earmuffs.
But did he really "invent" them?  Should he be given credit for these fun accessories?  You decide!  This book is told in a humorous yet informative manner with fun illustrations, giving budding inventors some inspiration and insight on patents.
Recommended for K-2nd grade.
Book reviewed by Carol C., Elementary School Liaison