You may have been hearing a lot about the emergence of periodical cicadas this year.  It is an exciting year for those in the range for this year's emergence. Here is a little info about these unique insects.  
What is a periodical cicada? 
Periodical Cicadas have a life cycle that lasts either 13 or 17 years, and all of them in an area emerge as adults at once.  These cicadas emerge in difference parts of the country at different times, and each group is given a brood year.  The brood in the news this year, brood x, does not reach into northern Illinois, so we will not be seeing them this year.   
Periodical Cicada: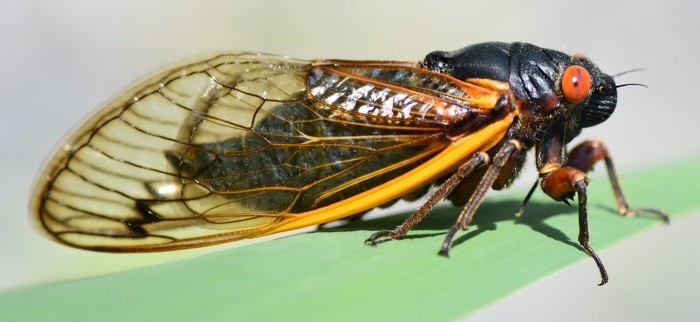 Feeling left out? 
Not to worry, we will get to see some periodical cicadas soon!  Northern Illinois should see periodical cicadas in the early summer of 2024.  Get your recipes ready! 
What? RECIPIES!?! 
Cicadas are edible! They taste like almonds (I have read).  Every year many people try them (although, try them with caution as they can trigger shellfish allergies).  They also cause a bit of a boom in forests as many animals have more babies in years when the periodical cicadas emerge due to the increase in insects to eat.  In the years following a large emergence, even tress grow more because of the increase in nutrients from the cicada bodies that decompose on the forest floor.  
Aren't there cicadas every year? 
Yes! Every summer cicadas emerge, but those are annual cicadas, also known as dogday cicadas.  They have also have a long lifespan, usually living underground for 2-5 years before emerging as adults.    
Dogday Cicada: 
For more information, visit:  https://web.extension.illinois.edu/cicadas/index.html
For some great photos, including the ones above, check: https://www.cicadamania.com/
To read about cicadas, check out these books: