May is Asian American and Pacific Islander Heritage Month.
Cenus.gov has lots of information about the history of this monthlong celebration: "In 1978, a joint congressional resolution established Asian/Pacific American Heritage Week. The first 10 days of May were chosen to coincide with two important milestones in Asian/Pacific American history: the arrival in the United States of the first Japanese immigrants (May 7, 1843) and contributions of Chinese workers to the building of the transcontinental railroad, completed May 10, 1869.
In 1992, Congress expanded the observance to a monthlong celebration that is now known as Asian American and Pacific Islander Heritage Month. Per a 1997 U.S. Office of Management and Budget directive, the Asian or Pacific Islander racial category was separated into two categories: one being Asian and the other Native Hawaiian and Other Pacific Islander. Thus, this Facts for Features contains a section for each."
To celebrate, check out some wonderful picture books by Asian and Pacific Islander authors and illustrators!
And make sure ro register for our Super Saturday program, VIRTUAL Super Saturday: Indian Dance featuring Bharatam Academy. They will feature amazing dances including the Alarippu and the Kolattam and even tell a story through dance! Join in by clapping along, learning a few steps, and practicing bird and animal movements.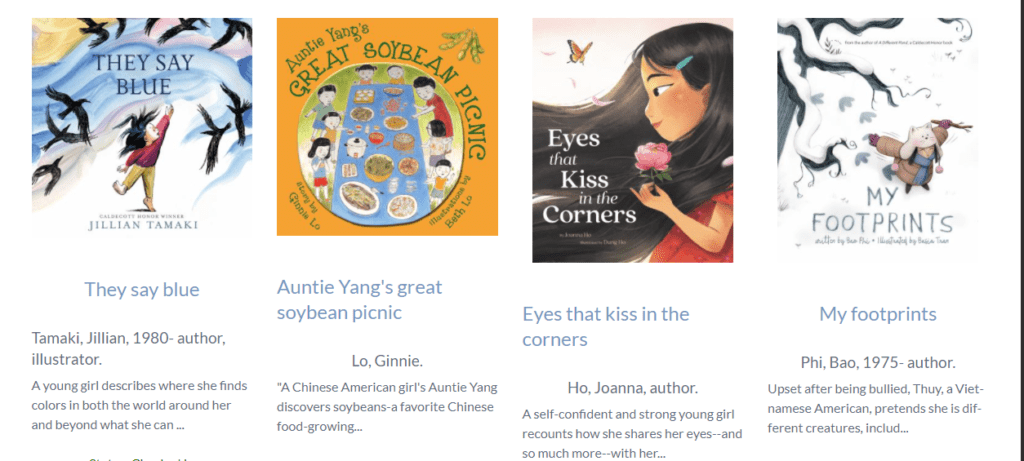 You can also enjoy author Joanna Ho reading her book, Eyes that Kiss in the Corners.