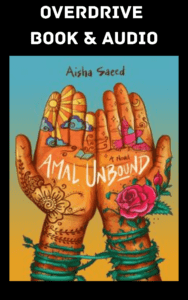 Twelve-year-old Amal's dreams of becoming a teacher are crushed when she accidentally insults a member of her Pakistani village's ruling family. Her punishment is to become a servant for the insulted family. As Amal navigates this new, harsh life, her unwavering courage keep her going.   Amal's sense of hope makes this ultimately an uplifting story. Anyone moved by Malala Yousafzai will love this beautifully written, suspenseful and empowering story.   
 For Grades 4 and up.   
This book is available as an ebook and e-audio in OverDrive's Digital Library. 
Book reviewed by Amy S., Youth Outreach and Programming Assistant