Families looking for virtual and screen free activities should check out NWSRA's Activity Center! The September Virtual Programming schedule has been published, and includes programs for people of all ages with disabilities and different interests, like LEGO, music, and animals. The Activity Center also includes activities you can do on your own, many of which are screen free.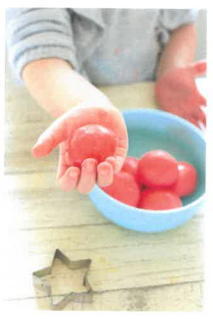 Here's a recipe for edible sensory dough that only needs 3 ingredients and will smell and feel great! Kids and grown ups can make this together and experiment with coming up with just the right texture.
Three Ingredient Edible Sensory Dough
Ingredients
1 cup corn starch
1 (6 oz.) box strawberry Jello
4 Tablespoons water (or more if desired)
Instructions
In a large bowl mix together corn starch and Jello. 
Slowly add in water, one tablespoon at a time, until mixture comes together to form a dough. You can add more water or cornstarch if needed. 
If you make a thick dough, you may want to finish kneading it together by hand. 
Play and enjoy! 
Want to make sure you don't miss any of the great things we're sharing? Sign up for our Library Fun at Home Newsletter to stay in touch!