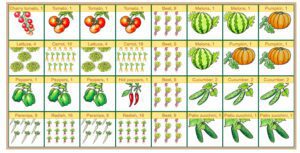 For a continuous supply of fresh home grown produce, home gardeners can develop a succession plan for their vegetable plantings to ensure they are using all their available planting space. The growing season is still young enough to create and follow a plan–it's a matter of choosing to plant the right vegetables at the right time.
For example, cool weather vegetables (e.g. radishes, lettuce, arugula, mustard) planted early in the spring can be harvested about now and other more warm weather seeds/seedlings can be planted in that precious empty garden space. Suitable choices could include: kale, heat tolerant lettuce, bush beans, and cucumbers/squash among many others.
Some vegetables are planted only once in the season as they need an extended growing period, e.g. tomatoes, peppers and eggplant. Succession planting also can refer to making multiple plantings of the same vegetable to ensure a continuous harvest. Many home gardeners plant radishes, lettuce, beans, and even cucumbers several times over a growing season.
Later in the season, some warm-weather vegetables can be replaced with cool weather crops to be harvested later in the fall, e.g. beets, carrots, kale, lettuce etc.
Check out this link to a planting chart and info about succession planting from the University of Illinois Extension: Vegetable Succession Planting Chart.
For more information, please log in to the Web Resources page (MPPL card number and PIN required) and access Article Finder. There, you can search for current how-to gardening articles (try using the terms: "succession planting," or "vegetable gardening").
If you need assistance with access or other questions, please contact us via Live Chat, email: info@mppl.org, or phone: 847-253-5675, if we don't answer, please leave a message–we'll call you back.