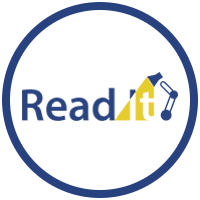 Read It! helps English Language Learners (ELLs) succeed academically and in everyday life by providing helpful resources and specialized content to English language learners who have a foundation in English grammar and reading but who are still developing proficiency. 
Read It! helps ELLs develop academic proficiency through resources that develop research, note-taking and academic writing skills and content that aims to develop reading comprehension in not only school subjects like science, math, history, literature, and civics, but life skills and cultural topics as well.  
Additionally, Read It! utilizes a multitude of tools to support understanding including illustrations, images, diagrams, research guides and worksheets. Read It! also features an intuitive interface navigation that allows users to browse content by categories and subcategories. A text-to-speech tool enables students to highlight and listen to text at a speed with which they are comfortable, and students can check their work and assist their learning with a tool that will translate text into 35 languages.