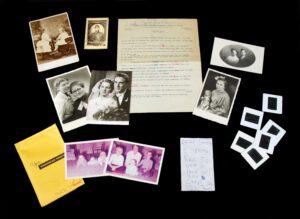 An initiative of Core: Leadership, Infrastructure, Futures which is a division of the American Library Association, Preservation Week (April 25-May 1, 2021) highlights what libraries and individuals can do to preserve our personal and shared collections. The American Library Association webpage for this event guidelines for how to preserve items in personal collections (photographs, audio recordings, films, textiles) and webinars which give additional information about preservation issues. The University of Illinois Library also has information and webinar links on its Preservation webpage.
The Mount Prospect Public Library has several books in its collection which can help individuals care for their own treasures. Two of these are An Ounce of Preservation by Craig A. Tuttle and Windows on the Past: Identifying, Dating and Preserving Photographs by Diane V. Gagel.
If you would like to contact a professional conservator for advice about an item in your personal collection, check out the Find a Conservator Portal offered by the American Institute for the Conservation of Artistic and Historic Works.