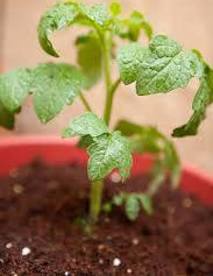 Memorial Day weekend is the time to plant vegetable gardens for many home gardeners. Generally, the weather is favorable for planting warm weather vegetables, but each year's specific conditions need to be considered individually.
Make sure seedling are hardened off and ready to go in the ground. There's no harm in waiting a few days/week before planting to ensure proper timing, otherwise there's a risk of damaging young seedlings if they are not ready or weather conditions are not ideal.  It's best to plant on a cloudy day or later in the evening. Young seedlings can get stressed if planted during the heat of the day, especially if it is hot and sunny.
Handle plants with care. About an hour before transplanting, thoroughly water plants and soil in the containers (pots, bands, flats, etc.). Roots of plants in flats should be blocked out with a knife to get as much soil as possible with each root. Carefully remove plants without disturbing the roots. Keep a ball of soil around the roots. Keep the roots moist at all times when they are out of the soil.
University of Illinois Extension: Illinois Vegetable Garden Guide
For more information, please log in to the Web Resources page (MPPL card number and PIN required) and access Article Finder. There, you can search for current how-to gardening articles (try using the terms: "planting tomatoes," or "vegetable gardening").
If you need assistance with access or other questions, please contact us via Live Chat: bit.ly/MPPLlivechat; email: info@mppl.org; or phone: 224-210-5198, if we don't answer, please leave a message–we'll call you back.