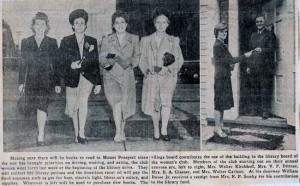 Something you might wonder about when staying safe inside is how people rose to meet other challenges in history. A good way to find out is through historical newspapers. In these you will be able to find headlines, articles, pictures, opinions and the even the weather report at that time. Here are Mount Prospect Public Library's top three historical newspaper sources:
1. Newspapers.com Library Edition. This is a sibling database of Ancestry.com Library Edition. It has millions of pages from sixteen thousand newspapers extending back to the 17th Century.
2. Newspaper Archive contains hundreds of Illinois papers, including the archives of The Daily Herald. If you browse papers by cities, the full run is found under Arlington Heights.  Now available to home users!
3. The Chicago Tribune through the ProQuest Historical Newspapers. Here you can read every issue from 1849 to 1996. It is the easiest to search.