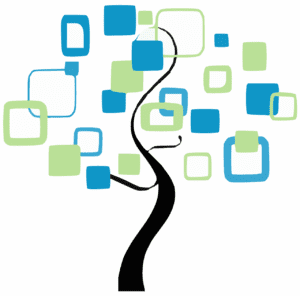 Winter is a good time for working on compiling your family tree.  Since many of us are staying inside these days because of the pandemic and the colder weather, use this time to gather your family papers, delve into the many online resources available to genealogists, and reach out to family members during those holiday Zoom calls.  There are many ways to get help with this process if you are just beginning, have hit the inevitable "brick wall," or just need some encouragement to continue the process.
The Mount Prospect Public Library offers an large collection of genealogy resources in print and online. Click here to access the print genealogy collection.  Many of these books can be checked out. Just put a book with the prefix GS in front of the call number on hold. When you get an email message that the book is ready for you, you can then make a parking lot pickup appointment on line or by calling the library.  MPPL offers many online genealogy databases for use by Mount Prospect Public Library card holders. You can see what resources are available here. Click on the category "Genealogy" to narrow the list to those most helpful for family history research.  You will need to enter your library card number and PIN to access the resources from home. Please note that Ancestry Library Edition is available for searching from home until March 31, 2021. The genealogy librarian Anne Shaughnessy is available to discuss your genealogy research with you. You can call the library at 847-253-5675 to speak with her or set up a virtual One-On-One Appointments.
Sometimes it is helpful to meet with others who are also compiling their family trees. There are two organizations in our area which have meetings and host speakers on genealogical topics.  They are the Northwest Suburban Genealogy Society and the Computer Assisted Genealogy Group of Northern Illinois (CAGGNI). Check the websites of NWSGS and CAGGNI for information about their upcoming meetings including their "members helping members (and non-members)" sessions.
The Family History Library in Salt Lake City hosts a massive collection of genealogical information managed by an expert staff and skilled volunteers.  Now that staff is available to help you with your genealogical research during free 20 minute consultation sessions.  Please use the FamilySearch website to schedule a consultation. Sessions can be conducted in English or Spanish.  The scheduling app provides schedule information in the guest's own local time to simplify making the connection across time zones.
Searching for one's family history can be a challenging endeavor. Getting help from others is part of that process. May the resources mentioned here lead you to some intriguing stories! Best wishes for success with your research.