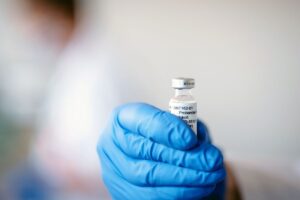 The topic of COVID-19 vaccination is a complex and rapidly changing one.  To better understand what vaccines are available and where to register for one, please consult the websites listed below.
General vaccine information compiled by the Mount Prospect Village can be seen here.
To learn general information about vaccines in the Cook County area please go to this site
Suburban Cook County residents can register to receive the vaccines by going to this site.
Residents of the City of Chicago can register for vaccines here.
The vaccine registration hotline for Cook County is 1-833-308-1988; 7 a.m. to 7 p.m. Monday to Friday. 
If you are looking for vaccination locations, please go to this site prepared by the Illinois Department of Public Health.
On March 22, 2021 (in English) and March 29, 2021 (in Spanish), the Mount Prospect Public Library and the Village of Mount Prospect are co-hosting virtual presentations about the COVID-19 vaccines.  These programs are informational only and will focus on the vaccines themselves–which ones are available, how they work and what their effects may be.  If you would like to register for the English presentation, please go here.  If you would like to register for the Spanish presentation, please go here.