Creating a new or updated resume can be overwhelming. The Resume Builder tool available from Gale Presents: Peterson's Test and Career Prep, available through the library's website, can simplify the process and give your resume a visual boost. 
To get started from home, select Gale Presents: Peterson's Test and Career Prep after logging with your library card on the Web Resources page.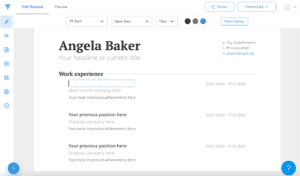 Select "Explore Careers", then "Career Tools," and finally "Create a Resume." Creating a login before you get started will allow you to save your changes and make updates at a later date. Once you've created a resume or cover letter, download it as a Word document or PDF, or create a link to share with prospective employers.
For more support with creating resumes and cover letters or assistance with accessing any of the library's Web Resources, contact the Research Desk. More suggestions for library resources and websites to support the job search are available on the job and career development research guide.