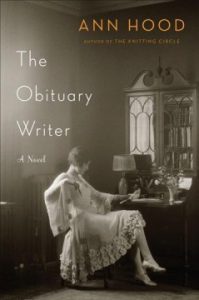 Title:  The Obituary Writer
Author:  Ann Hood
Page Count:  292 pages
Genre:  Historical Fiction
Tone:  Reflective, Melancholy, Character-driven
Summary:
On the day John F. Kennedy is inaugurated, Claire, a young wife and mother obsessed with the glamour of Jackie, struggles over the decision of whether to stay in a loveless but secure marriage or to follow the man she loves and whose baby she may be carrying. Decades earlier in 1919, Vivien Lowe, an obituary writer, is searching for her lover who disappeared in the Great San Francisco Earthquake of 1906. The surprising connection between these two women will change Claire's life in unexpected and extraordinary ways.
SPOILER WARNING: These book discussion questions are highly detailed and will ruin plot points if you have not read the book.
The Library is happy to share these original questions for your use. If reproducing, please credit with the following statement:  2019 Mount Prospect Public Library. All rights reserved. Used with Permission.
1. The book is entitled THE OBITUARY WRITER, which might imply this is primarily Vivien's story. Is that intentional? Is it true?
2. What was Vivien's approach to writing obituaries?
What is appealing about this?
Were you surprised we weren't shown any of the obituaries she wrote?
How does her role in helping family members to find peace with loss contrast to her own situation?
When was this difficult for her, and did this make sense to you?
Would you want someone like Vivien to write your story? Why?
3. In an interview Hood references the challenge of using alternating point of views, "that the reader has to reach the end of each section wanting to stay in that time and place every time…I needed the reader to not want to leave Vivien when her section ended, then not want to leave Claire. Every time."
In your opinion, was she successful?
Were you equally invested in Claire's and Vivien's stories?
4. Were there other characters you were interested to see make additional appearances? Lotte? Kay Pendleton (librarian)? Sebastian? What did each add to the overall narrative?
5. What about the male characters in general?
What roles did they play in the story?
Is there messaging that can be read into how they were depicted, either individually or collectively?
Would you have been interested in learning more about any?
6. How is the topic of infidelity portrayed in the book?
7. Did you suspect that David might indeed be alive? Were you disappointed to learn he was not?
8. The novel is bookended with news of Dougie Daniels.
What happened in the beginning of the book? What impact did that have on Claire?
When and how does his story re-enter the narrative near the end? What were the ramifications there?
9. In your opinion, do Claire and Vivien bear responsibility for the lives they have? Do you think they own their choices or blame circumstances? Do they take responsibility for the consequences? Should they?
10. In 2002, author Ann Hood lost her 5-year-old daughter unexpectedly to a virulent form of strep throat, an experience she later shared in Comfort: A Journey Through Grief (2008). In what ways might this insight illuminate events or characters in The Obituary Writer (2013)?
11. What difference does it make to different characters that the baby Claire loses was Peter's? How might the story have been different if it weren't?
12. Did you guess the connection between the stories of Claire and Vivien?
At what point did you suspect and/or become certain?
In what ways did the revelation cause you to reflect back on the character of Birdy (or, for that matter, Vivien)?
Was this an earned 'twist' or did it feel at all contrived?
13. Did Vivien have a hopeful/happy ending to her story? Do you think Claire will?
14. What significance, if any, might there be in the names chosen for the characters? An analysis of story tropes points out interpretations of Vivien, Sebastian, and David.  Are these stretches, or do you see validity?  Any others?
15. In a letter from the author included in the Reading Group Guide, Hood explains how the premise for this novel came about. She'd been in the midst of writing what was intended to be a short story about a young wife during the Kennedy era who was questioning her role as a woman during that time. She talks of always associating the Kennedy inauguration with hopefulness, but then she was confronted with details of a long previous April and the tragedy of the San Francisco earthquake. "I wondered what would happen if I told two stories: one about the hope of January 21, 1961, and the other about the grief of April 18, 1906. In that moment, THE OBITUARY WRITER was born."
How might this 'origin story' be surprising?
Do you think the effect of juxtaposing these two stories was what the author intended?
16. Why do you think so much of modern writing/publishing, especially in the realm of what might be termed 'women's fiction', uses the structure of dual storylines set in different eras, often in which two seemingly separate characters must be connected somehow?
What's the appeal?
Do you enjoy reading stories told in this way?
Are there any downsides?
17. The publisher describes THE OBITUARY WRITER as part literary mystery, part love story. How well does the story fit that depiction?
18. Is this a story you will remember? What do you think will stay with you?
Want help with your book discussion group? Check out tips, advice, and all the ways the Library can help support your group!
OTHER RESOURCES:
READALIKES: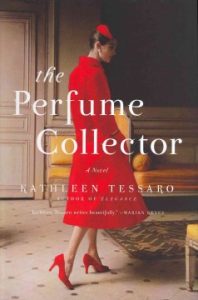 The Perfume Collector
by Kathleen Tessaro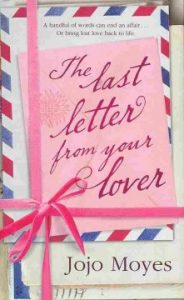 The Last Letter from Your Lover
by Jojo Moyes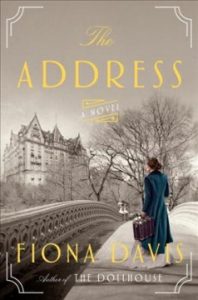 The Address
by Fiona Davis