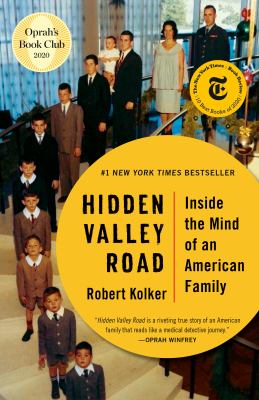 Title:  Hidden Valley Road: Inside the Mind of an American Family
Author:  Robert Kolker
Type: Nonfiction
Great for Groups that Like:  Nonfiction that reads like fiction, family stories, social issues, well-researched and compassionate journalism
Summary:
Journalist Robert Kolker tells the heartrending story of a midcentury American family with 12 children, 6 of them diagnosed with schizophrenia, that became science's great hope in the quest to understand the disease.
QUESTIONS CREATED BY MPPL STAFF:
Download a copy of the following questions.
SPOILER WARNING: These book discussion questions are highly detailed and will ruin plot points if you have not read the book.
The Library is happy to share these original questions for your use. If reproducing, please credit with the following statement:  2022 Mount Prospect Public Library. All rights reserved. Used with Permission.
Want help with your book discussion group? Check out tips, advice, and all the ways the Library can help support your group!
What conversations did you have about mental health growing up?
Let's start by discussing Don and Mimi. How did the idea of the American Dream or ideal family affect Mimi and Don's parenting style?
How were the non-schizophrenic siblings affected by their schizophrenic brothers?0
At the time, mental illness/schizophrenia was blamed on the mother. What was your reaction to this? How did it make you feel about Mimi?
What did you think of the main memories in the book being from Mary and Margaret, especially towards the end?
How are the Galvins shaped by their own traumas?
What is something you learned about the field of psychiatry or schizophrenia?
While this book is about mental illness, it is also very much about family. How do you think the book defines family?
What did you think of the doctors/scientists at the forefront of schizophrenia research? Did anything surprise you about their research process?
Lindsay says her purpose for participating in this book is to bring greater empathy and compassion to people with severe mental illness. Do you think the book accomplished this?
What was the experience of reading this book like for you?
Is it ethical to publish a book like this? Does it violate the privacy of people who can't provide consent?
What are some things you will take away from this book?
Has the book changed the way you see your own family?
OTHER RESOURCES: