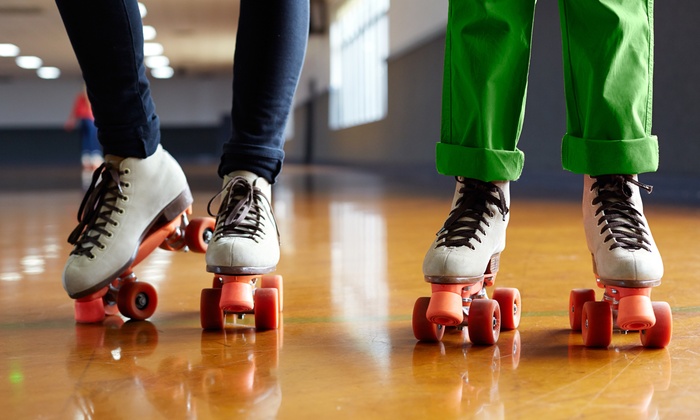 SKATE FOR HISTORY: Celebrate Presidents' Day on Monday (Feb. 19) with a roller skating party from Noon – 5 p.m. at the Central Community Center (1000 W. Central Rd.) Children and their parents are invited to this event which supports the Mount Prospect Historical Society in their efforts to preserve the 1896 Central School. Admission is $5/person. A limited number of skates will be available for rental at an additional cost of $5. Pop and snacks will only be available through the park district's vending machines. Participants are encouraged to bring their own skates, which will be subject to inspection by park district personnel to prevent damage to the rink. A Disc Jockey will be on hand to turn out the tunes!  While the party is open to students from all schools in the Village, children in fourth grade and under should be accompanied by a parent. For more info, visit www.mtphist.org or call 847/392-9006.
SENIOR HOUSING OPTIONS: Learn about affordable housing at a program on Tuesday (Feb. 20) from 1:30 – 3 p.m. at the Main Branch of Mount Prospect Public Library (10 S. Emerson St.) You'll learn what is involved in the costs and how to prepare a budget. To register, visit www.mppl.org or call 847/253-5675.
WRITERS GROUP: Do you enjoy writing short stories, poetry, or another creative format? Are you looking for constructive criticism in a friendly environment among others who share your passion? Join the Mount Prospect Writers Group on Tuesday (Feb. 20) from 7 – 9:30 p.m. in  Room 2A at the Main Branch of Mount Prospect Public Library (10 S. Emerson St.) The group is open to all adult writers with all levels of writing experience, in all genres. Bring up to five double-spaced pages and copies to share (approximately 10) with group members. A modest fee is required on a quarterly basis. The Writers Group meets the third Tuesday of every month. Questions?  Contact Laird Larsen at l-larsen@att.net.
SEW BEE IT: If sewing or quilting is your hobby, join others who enjoy the same on Wednesday (Feb. 21) from 9 – 11a.m. at Mount Prospect Village Hall (50 S. Emerson St.) The Sew Bee It Quilting Group is an opportunity to make new friends and work on your projects. For more info, contact the Mount Prospect Historical Society at 847/392-5760.
WOMEN'S POWER LUNCH: Join other ladies on Wednesday (Feb. 21) from 11:30 a.m. – 1 p.m. for the program "Listening To Your Heart" presented by Dr. Zehra Jeffrey at Cooper's Hawk Winery & Restaurant (798 W. Algonquin Rd. AH.) Dr. Jeffrey is board-certified in internal medicine and cardiovascular disease. She will discuss risk factors, heart attack warning signs and survival, and getting on the road to heart health. Seating is limited. RSVP to Meghan@mountprospectchamber.org
GROWING UP MUSLIM: Join  in a book discussion on Thursday (Feb. 22)  11:30 a.m. at the Skokie campus of Oakton Community College (7701 N. Lincoln Ave.)  Attendees will discuss the work of Amani Al-Khatahtbeh, founder and editor-in-chief of MuslimGirl.com, the No. 1 Muslim women's blog in the U.S.
WHAT'S ON THE MENU: Spring arrives in about a month (March 20!) Ease into the mood of brighter days by visiting the River Trails Nature Center (3120 Milwaukee Ave. NORTHBROOK.) Plan a Saturday or Sunday visit at 3 p.m. to learn about the feeding habits of the center's display animals. For more info, visit www.fpdcc.com/events.
YOUR VOICE, YOUR VOTE: The Gubernatorial Primary Election is March 20. You have the opportunity cast your vote EARLY at Mount Prospect Village Hall (50 S. Emerson St.) The schedule is as follows: Monday – Saturday (March 5-10) from 9 a.m. – 5 p.m.; Sunday (March 11) from 10 a.m. – 4 p.m.; Monday – Friday (March 12-16) from 9 a.m. – 7 p.m.; Saturday (March 17) from 9 a.m. – 5 p.m.; Sunday (March 18) from 10 a.m. – 4 p.m.; Monday (March 19) from 9 a.m. – 5 p.m. Questions? Email Village Clerk Karen Agoranos at kagoranos@mountprospect.org or call 847/818-5333.
NEARBY HAPPENINGS:
—-TRAVEL TALKS: Consider  your   2018 travel plans on Friday (Feb. 16) from 1 – 4 p.m. by visiting the Community Education Travel's Travel Talks! event  at Forest View Educational Center (2121 S. Goebbert Rd. AH.) Get in-depth information on CET destinations including Croatia and Slovenia, Peru with Machu Picchu, Sicily and Malta, Niagara Falls and Stratford, Yosemite and Lake Tahoe National Parks, Alaska Iditarod with the Northern Lights. CET staff, volunteers and travel partners will be on hand to answer questions on all upcoming tours, day trips and motor coach tours. Special travel discounts will be offered throughout the day. For details, email cetravel@d214.org or call 847/718-7709.
—-HOME & GARDEN SHOW: Start planning your interior and exterior remodeling projects by visiting this popular event on Saturday and Sunday (Feb. 17/18) from 10 a.m. – 5 p.m.at Arlington Racecourse (2200 Euclid Ave. AH.) Attend expert seminars on kitchens by Normandy, consider adding a hot tub to your home, and enjoy free wine tastings, cooking shows, a Tesla display and more. Admission and parking is free. For more info, visitwww.HomeShowArlington.com or call 630/953-2500.